Red Carpet Runway Events / Step And Repeat Backdrop Shoots
Our Red Carpet backdrop shoots have quickly become very popular. They range from simple to full blown mini stage sets. You get the full use of our extensive selection of props. You choose the theme, we bring it. We print out photos, on the spot, just like our full size photo booths. We have a large LED monitor that runs the same program as in all our photo booths. As you stand against the backdrop you can see yourself as the programs runs. It does the count down, tells you to get ready all on the screen right in front of you. It's a photo booth without walls. Excellent for 1 person to large groups.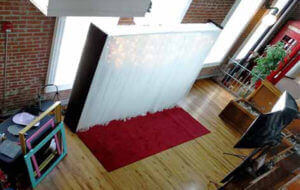 Our red carpet backdrop photo shoots are extremely popular. They can be used for any event from a very formal wedding to an outdoor t-shirt event in the summer. We will gear the look or style of the set-up to fit your event. Anything from a simple fabric backdrop to a full size movie set. We have so many different themes and we can customize anything your heart desires.
We have done photo booth events at many of the best venues in Kansas City.
Starlight Theater, The Uptown Theater, The Kansas Speedway, Arrowhead Stadium, Kauffman Stadium, The Kansas City Convention Center,

Municipal Auditorium

, The Little Theater, The Grand Hall at Power & Light, The Power And Light District, The Great Hall, The Mark Twain Building, Boulevard Brewing Company, The Intercontinental Hotel, Union Station, The Downtown Marriott, The Muehlebach Hotel, The Sheraton Kansas City Hotel At Crown Center, The Overland Park Marriott, The Overland Park Convention Center,  The Sheraton Grand Downtown Chicago, The Mission Theater, The Jayhawk Club, The

Charles B. Wheeler Downtown Airport, The Elms Hotel

and many, many other local venues and barn venues.