Information On Our Rustic Steampunk Time Machine Photo Booth.
Steampunk Photo Booth Dimensions And Space Requirements
The Steampunk Time Machine photo booth is approximately 4 foot wide and 8 foot long. Without the top canopy on the booth it is 7ft tall. All our rentals come with a full prop stand and separate hat-rack.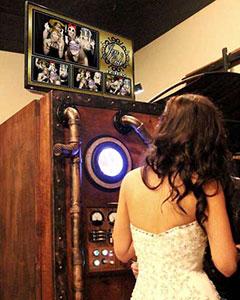 Our steampunk photo booth can be set-up outside. We prefer to have it on solid ground like concrete but we can, if needed, provide a base platform that allows us to set-up on grass.
This is a curtained booth so windy conditions can make taking photos challenging. As with all our photo booths they use electricity so in case of bad weather we need to be under some cover, such as a building overhang or a tent.  For an extra charge we can provide a 10' by 20' tent that covers the entire booth and props area.
 

Our 1800's

Steampunk Photo Booth Capacity.
This is a stand up booth and fits up to 12 guests inside at a time. Although this is a steampunk inspired photo booth, we have used it at many western and country themed events. The style is from the 1800's and it could have come right out of a wild west movie.

The free props that we bring with this photo booth make for a lot of fun. and

can be geared for your specific theme or feel.



Booth Electrical Requirements
All of our photo booths require 1 standard 110v electrical outlet located within 50' of the booth area. Or an extension cord to plug into within 50'. Really that's all we need. We bring our own lighting so it doesn't matter how dark the area is.