"The Great Gatsby"


Our Roaring 20's / Art Deco Photo Booth

This is our classic roaring 20's photo booth. There's not a more refined photo booth in Kansas City. A throwback to yesteryear, this booth is perfect for any classic event from a formal elegant wedding to a roaring 20's party. The interior is simply beautiful with richly stained wood paneling and a faux marble exterior. This booth has been in some of the nicest hotels in KC, including some that don't usually allow photo booths. The outside lights glow red as does the photo drop slot.

The decor is 1920's Art Deco which is the same style many of our most beautiful downtown building are.

Just like our steampunk photo booth it is a marvel that provides your guests with that "jaw-dropping" moment when they see it and then they can't wait to use it.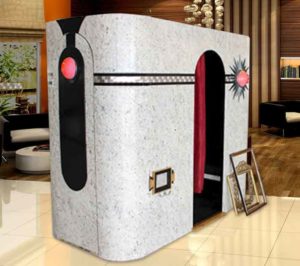 This booth may look like it's straight out of  1920's but everything in it is high tech. Dell touchscreen interface, static interior lighting, Canon professional DSLR camera, interior fill flash, professional software, quality sub-dye printer. Everything to make your event memorable.
The roaring 20's, Gatsby inspired photo booth props

that we bring with this booth are simply beautiful.
The Interior of this booth is beautifully crafted. Rich stained wood paneling and trims. It provides that Great Gatsby feel.
Our Gatsby Photo Booth Specifications
This booth footprint is approximately 4 by 8 feet and it is 7 foot tall. The prop stand is about 4 feet by 3 feet and the hat rack is 2 feet by 2 feet. This is a sit down booth. Inside is a faux leather bench seat that accommodates up to 3-4 guests. We require only a regular 3 prong electrical outlet for the power. The booth is solid and heavy and cannot be taken up stairs but elevators are O.K. We prefer not to use this booth outdoors.

And Nobody Anywhere, Outdoes Us On The Quality Or Quantity Of The Props That We Bring To Each And Every Photo Booth Event We Do.